Pandora Reveals the Holiday Top Thumb Hundred
Adds Christmas Listening Modes to top stations: Classic Rock, Pop Latino, Today's Country and more
Pandora reveals its Holiday Top Thumb Hundred today, compiling all of its listeners' festive favorites in one spot, as a Mode on its popular Christmas Radio station. Holiday Top Thumb Hundred Mode highlights the most thumbed up holiday songs of all time on Pandora, with special audio drops featuring fun facts about the list. From She & Him, whose version of "Rockin' Around the Christmas Tree" tops the list, to Thomas Rhett, Eartha Kitt, Nat King Cole, Michael Buble, and of course, Mariah Carey, you can see where your favorite artist ranks. Full list of tracks below. Click HERE and select Holiday Top Thumb Hundred Mode where it says "My Station" at the top to listen. Click HERE for some fun facts about the songs on the list.
Pandora has also enhanced two of its most popular holiday stations, Holiday Hits and Christmas Radio. Both stations now feature Modes, a popular feature that allows you to customize your station listening experience based on a musical theme. Whether you want to tune into favorites from Christmas past or present, instrumentals or ensembles, covers or duets, Pandora has a Mode for every warm holiday feel. Additionally, if you're only into a certain genre of holiday music, Pandora's got you. They've added a seasonal Mode to a variety of popular stations including Today's Hits, Today's Country, Today's R&B and Old School, Classic Rock, Pop Latino, Tropical de Hoy, and more. Listeners can stay tuned to their usual favorite Pandora genre stations and select the Holiday or Christmas mode where it says "My Station" at the top to listen. Full list of stations with these festive, seasonal Modes is below.
Read more about all of Pandora's holiday offerings HERE.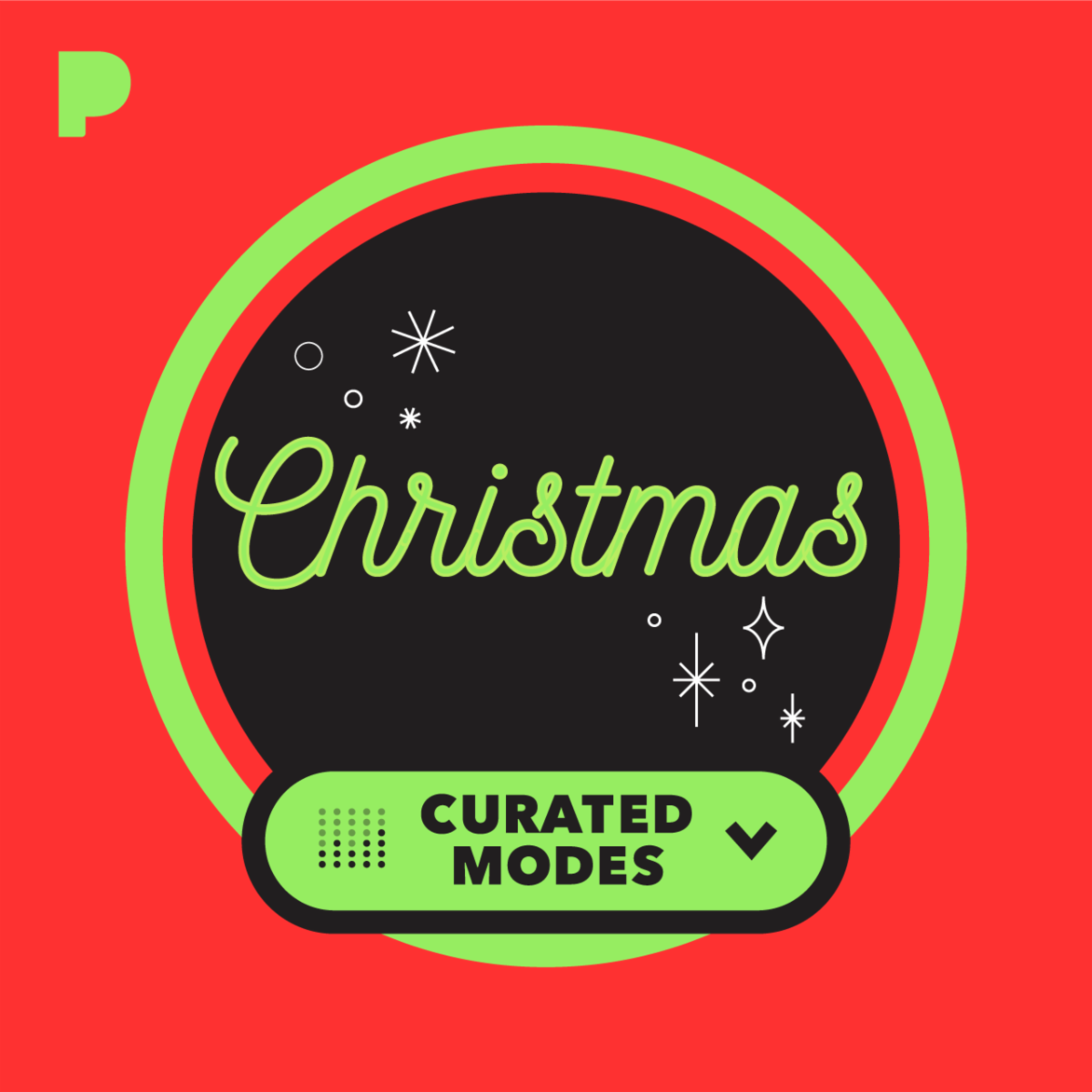 Christmas Radio Modes:
Christmas Past: Holiday favorites from the 70s 80s and 90s
Christmas Present: Holiday favorites from the 2000s and Today
Grandma's Holiday Favorites: Holiday favorites from the 40s 50s and 60s
Peaceful Instrumentals: Peaceful songs to sooth your holiday stress
Christmas Ensemble: Holiday Hymns and Choirs
Holiday Top Thumb Hundred: The most thumbed up Holiday songs on Pandora
Holiday Hits Modes:
Pop Holiday: Holiday Pop songs from yesterday and today
Mistletoe Duets: Timeless Holiday duets and collaborations
By the Fire: Warm Holiday feels
Acoustic Holiday: Holiday music unplugged
Classic Holiday Covers: Classic Covers from today's top artists
Holiday Originals: Holiday Originals from your favorite artists
Holiday Party: Celebrate the season
Holiday Mode on popular genre stations:
Today's Hits: Hits for the Holidays Mode
Today's Adult Hits: At Home for the Holidays Mode
Today's Country: Today's Country Christmas Mode
Today's Christian Hits: Christmas Spirit Mode
Today's R&B and Old School: Classic R&B Christmas Mode
Today's Alternative: Your Alternative Holiday Mode
Classic Rock: A Classic Rock Christmas Mode
Classic Country: Honky Tonk Christmas Mode
Americana: A Very Americana Christmas Mode
Pop Latino: Ya Llego la Navidad Mode
Tropical de Hoy: Rumbón Navideño Mode
Pandora's Holiday Top Thumb Hundred
Rockin' Around The Christmas Tree — She & Him
Christmas Eve / Sarajevo 12/24 — Trans-Siberian Orchestra
All I Want For Christmas Is You — Mariah Carey
Like It's Christmas — Jonas Brothers
We Three Gentlemen (Medley) — Lindsey Stirling
Underneath the Tree — Kelly Clarkson
It's Beginning to Look a Lot Like Christmas — Perry Como & The Fontane Sisters
When You Believe (with Maren Morris) — Pentatonix & Maren Morris
You're A Mean One, Mr. Grinch — Thurl Ravenscroft
Please Come Home For Christmas — Eagles
Winter Wonderland — Michael Bublé
Christmas (Baby Please Come Home) — Darlene Love
Where Are You Christmas — Faith Hill
Happy Holiday/The Holiday Season — Andy Williams
Baby It's Cold Outside (Duet With Michael Buble) — Idina Menzel
Sleigh Ride, For Orchestra (or String Orchestra) — Arthur Fiedler
Carol Of The Bells/Sing We Now Of Christmas — Barlowgirl
Santa Tell Me — Ariana Grande
Oh Holy Night — Katharine McPhee
Believe — Josh Groban
Baby, It's Cold Outside — Zooey Deschanel & Leon Redbone
Christmas In The Country — Thomas Rhett
The Christmas Song (Merry Christmas To You) — Nat King Cole
Up On The Housetop — Gene Autry
Someday At Christmas — Stevie Wonder & Andra Day
Home For The Holidays — Perry Como
I'll Be Your Santa Tonight — Keith Urban
Jingle Bell Rock — Daryl Hall & John Oates
What Child Is This? (First Noel Prelude) — Francesca Battistelli
The First Noel — Lady A
Somewhere In My Memory — John Williams
Last Christmas — Wham!
Hark! The Herald Angels Sing/Angels We Have Heard On High — Straight No Chaser
Carol Of The Bells — Cimorelli
Sleigh Ride — Runaway June
Merry Little Christmas — Robin Thicke
Silver And Gold (Soundtrack Version) — Burl Ives
Try A Little Tenderness — Chris Brown
Christmas Tree Farm — Taylor Swift
Present Without A Bow (feat. Leon Bridges) — Kacey Musgraves
Nutcracker-Dance Of The Sugar-Plum Fairy — The National Philharmonic Orchestra & Richard Bonynge
God Rest Ye Merry Gentlemen/Joy To The World — The Celts
Santa Baby — Eartha Kitt
Silver Bells — Johnny Mathis
God Rest Ye Merry Gentlemen — Glee Cast
I Heard The Bells On Christmas Day — Casting Crowns
Have Yourself A Merry Little Christmas — Sam Smith
Precious Moments — Erich Kunzel
O Holy Night — Ellie Goulding
Christmas Medley — Jon Schmidt
When Christmas Comes to Town — Matthew Hall And Meagan Moore
Christmas, Why Can't I Find You? — James Horner & Taylor Momsen
A Holly Jolly Christmas — Brett Eldredge
All I Want (For Christmas) — Liam Payne
Jingle Jingle Jingle (Soundtrack Version) — Stan Francis
Joyful, Joyful — Pentatonix & Jazmine Sullivan
Run Rudolph Run — Chuck Berry
Little Saint Nick — The Beach Boys
Merry Christmas, Happy Holidays — *NSync
Christmas Without You — DNCE
What Christmas Means to Me — CeeLo Green
White Christmas — OneRepublic
We Three Kings — Jackson Berkey
Stille Nacht — Mannheim Steamroller
Sugar Plum Fantasy — Cecil Scaife
Once Upon a Christmas — Wade Bowen
I'll Be Home for Christmas — Cam
Happy Xmas (War Is Over) (feat. Sean Ono Lennon) — Miley Cyrus & Mark Ronson
Happy Christmas (War Is Over) — King Calaway
This Christmas — Donny Hathaway
Let It Be Christmas — Alan Jackson
Cozy Little Christmas — Katy Perry
I Saw Mommy Kissing Santa Claus — Jackson 5
It Is Christmas — Chris Janson
Favorite Time Of Year (Feat. Tori Kelly) — India.Arie & Joe Sample
All I Really Want For Christmas (feat. Kool-Aid Man) — Lil Jon
Greensleeves — Michele McLaughlin
Blue Christmas — The Lumineers
Welcome Christmas — Dr. Seuss & Boris Karloff
Suite from the Polar Express — Alan Silvestri
O Come, O Come, Emmanuel — Steven Sharp Nelson
Christmas Is Here — Meral Guneyman
Angels We Have Heard On High — For King & Country
Breath Of Heaven — Amy Grant
At Christmas Time — Luther Vandross
Veni Veni Emmanuel — Hayley Westenra
Do You Hear What I Hear — Idina Menzel
Bring A Torch, Jeannette, Isabella — Jackson Berkey
March — Czecho-Slovak Radio Symphony Orchestra
White Christmas Makes Me Blue — Randall King
Let it Snow! Let it Snow! Let it Snow! — Mitchell Tenpenny
The Nutcracker – Dance Of The Sugar-Plum Fairy — Royal Philharmonic Orchestra
Fur Elise — David Benoit
A Christmas Festival, For Orchestra (original Version) — The Boston Pops Orchestra & Arthur Fiedler
Tristes Navidades — Los Dos Carnales
Walking In The Air (From The Snowman) — Crouch End Festival Chorus
I Can Hardly Wait 'Till Christmas — The O'Jays
O Christmas Tree — Chad Lawson Trio
It Must Be Christmas — Chris Young
Christmas Time Is Here (Instrumental) — Vince Guaraldi Trio
Comments
comments